Search Inside Yourself is a leadership workshop that was initially developed in Google and since then it is being taught all over the world. We had the pleasure to Interview Mounira Latrache, one of the two instructors attending next Search Inside Yourself Workshop in Athens.
Mounira is the Founder of Connected Business Mounira is the Founder and CEO of Connected Business a company that brings compassion and mindfulness into work life. She thrives by empowering people to find their authentic way.
Mounira brings 15+ years of leadership experience at international brands like Google, Red Bull, and BMW. Next to heading PR for YouTube DACH and later heading the YouTube Space she was one of the pioneers of the mindfulness community at Google; its success gave her the opportunity to give mindfulness trainings as her 20% project to offices, teams, and leaders around the globe.
Mindfulness practice guided her personal empowerment and taught her strategies to become a better leader, learn skills to work in the digital time and shape a new culture – sharing this experience lies at the heart of her work.
Enjoy the interview
What are the greatest challenges that employees face in large companies?
The pace and complexity of daily business increases and it becomes more and more challenging for people to work effectively and at the same time have balanced wellbeing. Many companies are facing huge shifts due to the digital transformation – they need to be more agile but their culture is not set-up for working that way. It is time again to focus on company culture and purpose again and create a way of working that empowers people.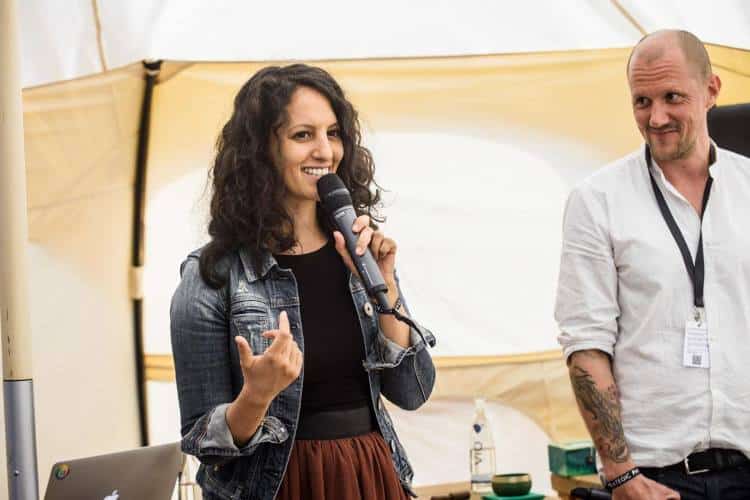 Many people spend the majority of their life at work – and find themselves unhappy. Could it be that the problems we face in our business life is a greater reflection of what is happening in society?
Good question, I am not sure that I have the answer to that but from experience, I would say that changes in our society do obviously affect us. Unhappiness can have many outside circumstances but my experience is that the major part of unhappiness has a lot to do with our inside. What can help us create a happy life is to step out of autopilot behavior that keeps going and functioning although were are unhappy and through stepping out of autopilot we have more clarity on ourselves and our behavior – that way we can start making different choices.
You have held several high-profile senior roles throughout your career. Why did you decide to shift and create your own company?
It was not really a decision at first, I just started sharing what I was passionate about. First I shared mindfulness with my colleagues because I saw how much it helped me to become a better leader and through the success, I was able to make it my 20% project and teach all over the world and through that more and more people approached me to speak at conferences and other companies – at one point I realized that there is such a big need for this but not a lot of offerings so I decided to fill this gap.
How did you learn about SIY and what inspires you to teach it around the world?
I learned about the course when I was still working for Google and was looking for ways to connect with colleagues who practice mindfulness in the company. What inspires me about it is that it is so universal it is relevant for any kind of culture, position or religious background. It touches me to hear the feedback of people hearing years after how much this changed their lives or helped them become a better leader. It is not only relevant for business life and companies but also for all areas of personal life. I love how much it connects us to what is really important for us. It touches me that the teachings can have such an impact on how we lead and develop business in the digital age but also how we can reshape our world through it.
How does developing emotional intelligence and self-awareness make someone a better leader? What is your experience with this?
For me, this made the whole difference. I can only be a great and agile leader in today's business world if I am able to practice self-leadership – self-leadership only works if I understand myself better and only then I can support my employees to practice self-leadership but also truly empower them. My experience is that without self-awareness I am very likely to put my own stuff on my team but through developing emotional intelligence I understand better from which place I act, how I really want to show up and how to navigate difficult situations. It gives me calmness when everything around me is crazy and that way I hand over calmness to my team. It makes me more open towards others and through that, I can be a leader who can create a truly diverse and psychological safe team. As you can see there are so many reasons why this matters in leadership.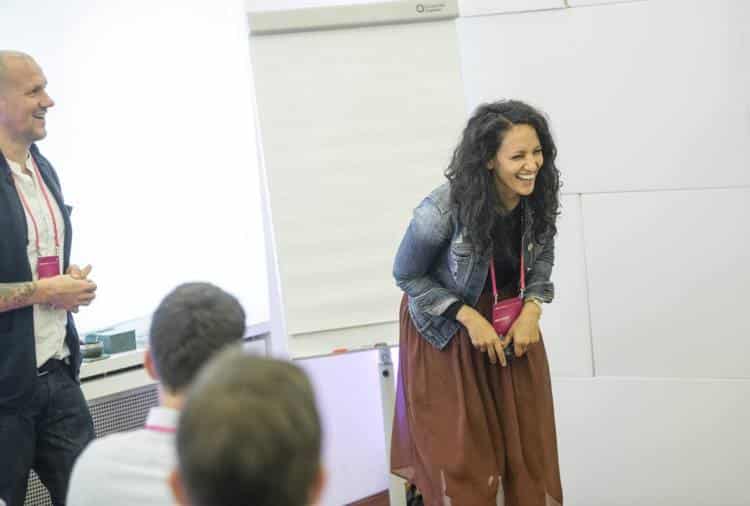 Can you provide a few examples of how SIY tools can be applied in everyday life?
The tools support developing emotional intelligence. We will show how just little pauses e.g. before a meeting can create space, we will explore ways to practice resilience, dealing with discomfort and difficult conversations. We will also dive deeper into understanding ourselves, our values, vision and the things that count for us.
What do you want to share with individuals who are considering joining SIY's first program in Greece?
If you want to grow into your highest potential and life a passionate life, this course is for you. If you want to become a leader that inspires and empowers teams, this course is for you. If you want to support your company to deal with the difficulties of the digital transformation, this course is for you. If you want to find ways to find stillness in the midst of a hurricane, this course is for you. If you want to bring compassion into your leadership or daily work life, this course is for you.
This course is an investment in a better life for all of us.